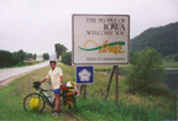 Roads about to get flat, RIGHT?? WRONG! Notice the FLAG? I found it on the shoulder of the road on the 3rd of July. It was designed to fly from a car window but a bit of modification made it a bicycle flag. Felt right to be showing the flag while riding a bike across America. Next time I think I will get a regular bike type flag pole and put a Texas flag on there. Might as well get all the abuse I can.
Date: Wednesday, July 05, 2000 8:25 PM Day 38
Hello to all. IOWA is not FLAT! It is home to some of the most fabulous flowers. I rode for nearly an hour today past Day Lilies growing wild by the road. Then Bluebells. Glorious! This probably comes as no surprise to the rest of you but my assumptions about mid-west geography have been pretty well shattered this week. Up and down and up and down, long, steep hills that probably classify as mountains somewhere. We left Marquette, Iowa about ten, stayed to visit with Jim and Denise's hosts too long. Then started out off the route to avoid a section six miles long where the road is washed out-not fun on a bike. So, up a hill steep enough that I hit the 160 beats a minute by the halfway point and had to stop for five minutes to rest. Oh, did I mention that it is not only hot but humid and very hazy today? I still like the heat better than the cold. Up to Pikes Peak State Park. This is where the Wisconsin River flows into the Mississippi. I don't have the exact elevation but it is the highest point in Iowa. Even the riders for RAGBRAI-a world famous bike ride-do not do this series of hills! So, made it up, zoom down and then grind back up, two more times. Great little towns, Guttenburg and Luxembourg and New Vienna. All just as clean and neat. I think it will be very hard to ever live again in a place as sprawling and messy as Houston for very long. Stopped for lunch at a cafe called, "Mom and Pops Cafe". I really don't have to make this up. Then on to world famous, Dyersville. Why is this place famous? Because the movie Field of Dreams was filmed here. There are several things connected to the movie still in town. Kevin Costner is not here. What with late start and tough ride, it is five o'clock so we will camp for the night. Whoops, no we won't, the campground turns out to be the City Park and we don't do that any more. So motel again. Big dinner at the restaurant. The ONLY one. Roast beef and gravy, baked potato with butter and sour cream, corn, carrots, fresh bread, "ice tea". Then off to DQ for Blizzard. Work is Hell, they say. Tomorrow will either be about 90 miles to Muscatine, IA or only 44 to Wyoming, IA. We are waiting to see if it is raining at six AM. Hope all had a Glorious 4th. Philip
Date: Friday, July 07, 2000 9:32 PM Day 39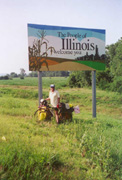 Well, what exciting things can I say about a cornfield? Or two corn fields, or perhaps 86.7 MILES of cornfields? They are indeed knee high to an elephants eye, they do in fact attract crows, they do not, however, seem to be infested with small children capable of horrific acts. Beyond that they are sort of just there. Mile after mile of there. I did see a lot of soybean but for sheer volume, corn wins hands down. OK, so what to report? Ah, let is talk about architecture. Iowa was quintessential mid-west farms. Stout two stories with barns and stuff, heavy investment in vinyl siding and riding lawnmowers. I tell you, all these folks get a lot more out of mowing than I would have presumed. But, today, after being moderately lost for 7.5 miles we rode across the Mighty Mississippi again and into Illinois.
Now I have, by the way, lived in Amarillo, Texas and am aquatinted with the concept of flatness, but this area may be in the running too. Anyway, off to Buffalo Prairie, Reynolds, Orion, Cambridge and finally Kiwanee. And what did we see? Practically every type of "style" ever foisted on the public. Victorian, both original and new, Craftsman Cottages that look brand new and cozy, Gothic monstrosities that probably drove a few farm wives to distraction trying to keep all those nooks clean. And then right in the middle were what looks like the blue-collar homes of places like Chester, PA. or half the towns in Maryland. The unifying theme here is that every thing is CLEAN. Neat, taken care of. Car on blocks in the side yard? Had a tarp on it. And so on. And the expanse of trimmed yard and flower garden would make many a city dweller swoon with envy. So, still much to see and experience. Warming up but good riding, even with a ten mph headwind we covered 86 miles in under 8 hrs. Hope a good weekend is in store for all. Planning on 60 or so tomorrow, after I get up at six to do the Laundry. THE Laundromat was closed today. Oh well. PG
Date: Saturday, July 08, 2000 9:29 PM Day 40
Hello to all. Today was some of the best and a tad of the worst, riding so far. The worst was simply a 12mph headwind for about 70% of the day and one really nasty 3/4-mile hill! Illinois is not all flat either. For the good part though we had smooth, paved roads with almost no traffic, the wind mitigated the effect of the sun, and then there was lunch in Henry, Ill. Now y'all know how I am about cafes. This place had red vinyl AND stools at the counter that would spin all the way around. They had two specials, hot ham and cheese sandwiches, and cold ham and cheese sandwiches. Now, I really wanted to ask was the sandwich hot and then gone cold? or was it cold and they would heat it up? But in the interest of getting out alive I held back. I did get the HOT roast pork sandwich, on white bread with Mashed potato and gallons of gravy. Ho-made beef vegetable soup and a dinner roll once used as a hockey puck. I looked around at the other diners and each had a roll but none were ever eaten. I think it is part of the ritual. Mavis, our waitress said she couldn't recommend the pie. The cook did not make any for today and all they had was frozen. Oh well... Henry, Illinois also had great homes, it has been a well off town for some time. Many of the ones I rode past had leaded windows, acres of gingerbread decorations, and enough front porches to provide sittin' and talkin' space for everyone in three counties. What was so odd was in back or in front of these 100 yr. old homes were boats. Brand new 25-30 foot long powerboats. There is a section of the Illinois River nearby and everybody who is anybody takes the boat out on Sat. afternoon. I didn't think the river looked big enough to do anything but drive real slow in but that may be the point. We rode 66.9 miles today, getting a very late start as we could not do laundry last night. Up at six this am and then breakfast, a trip to Wal-Mart, this, that and the other. Didn't start until about 8. Rode until 5:00 PM and got to Winona, IL. Just up and down the farm roads. The sweet corn is starting to tassel out! Won't be too much longer. One of the farmers said he runs a little stand during the summer with a pot of boiling water, salt and butter. You buy an ear, shuck it and he boils. This after picking the ear right then. He claims they lose flavor immediately and would never eat corn over two hours old! Now this may be the next big trend, folks! Forget Starbucks. Can't you just see thousands of kiosks set up all across America with hydroponically grown corn, ready to pick, boil and eat. Would you like some drawn butter or a double salted ear with LITE COUNTRY CROCK? Anyway, he may have been pulling my leg. All for now, I have to either sleep in a city park or ride 125 miles tomorrow, nothing else the way I'm heading. I'll let you know. Philip
Date: Sunday, July 09, 2000 6:50 PM Day 41
Hello to all from lovely downtown Watseka, IL. I ended up riding 101.6 miles just to get to a motel that is still six miles off rte. I will do another 40 in the AM and be where I meet back up with the folks I was riding with. There is simply nothing out here but small l- 500/900persons - towns with no Camping facilities except City Parks - no showers - and no motels. So it was either come off rte and finish early tomorrow, or ride all the way today and then have someone get rid of the body. I think this is my fourth century of the trip. Most of the day was quite, unused farm roads with no shoulder but also no traffic. I left Wenona this AM at six and enjoyed a cool, very private ride. It really is like being on the ocean. Steady, rhythmic movement, minimally changing scenery, soft winds. All you need is foghorns and mermaids. What you get is tractors and farm dogs. I spent about two hrs riding and then hit the convenience store for food. Decided to try listening to the radio for a bit. Got Weekend Edition and beat the Puzzlemaster too. Then, while scrolling thru the channels, I found one of those American Top Forty programs. Today was Girl Groups! You have to get into this, cruising with a tailwind, 15-17mph, The Jeanette's blasting out with "Sally go 'Round the Roses" and I'm singing second harmony-poorly I might add. Bobbing to the music and just having a ball when I spot another rider, going the other way. Name of Lucas from Denmark. He was a bit loath to chat. Finally figured out he couldn't see the earphone wires, had heard my caterwauling and thought I was bonkers. So much for international relations. This young man is riding from Halifax, Nova Scotia to Seattle, then down the West Coast to LA then across to Tucson, then up to Phoenix. I wish him well. One of the CASEY'S stores-7/11 type- had a bike log they had been keeping for five years. Neat to sign in with the other folks. Thanks to all who sent their personal remedies for saddle sores. I try everything. I am going to walk to the Wal-Mart about a mile down the road after I finish this and raid their supply of Hydrocortisone cream. Ah, the TRUE joy of touring. Gotta go eat major calories. Later. Philip
Date: Monday, July 10, 2000 6:12 PM Day 42
Hello to all. I will get to today in a bit. First I want to tell you about the storm last night. I was staying in the Carousel Motel in Watseka, IL. Mr. Huang the owner deserves a whole page but will have to wait. About ten o'clock it started to thunder and then lightening! Words like awesome and awful used to be appropriate for displays like this. Great flashing, bursting explosions of crystal white light would rip apart the sky, like tearing a page out of some celestial picture book to expose the next picture. Then a massive CLAP of thunder to punctuate the moment, as if there were god putting his stamp of approval on the display of light. Then sit and wait, for by now the only other guests at this motel, young construction workers from Chicago, were up and out side with me, and make bets on when and then RIP, REND and TEAR the night apart, shattering the dark with more blasts of light. And again. And again. I finally saw the owner, Mr. Huang watching us watching the storm from the office. He had a very gentle look to his face. In the morning I asked him if he liked the light show and he said only, " yes, not shooting noise." He is the right age to perhaps have been shot at in another world. After that I slept in 'til 9:00 and then began to ride, trying to dodge the rain. Do you know how many birds can sing after a rainstorm? Rode a few mils to rejoin the route, got detoured and finally got from Watseka to Renesslear, IND. about three. The campground is under water so Holiday Inn Express wins tonight. Only 52.2 miles today, 2880.1 for the trip. Back to cranking out the miles tomorrow. Thanks for all the email. For anyone who is reading this after it was forwarded to them, Welcome and send me a note. I'll ride a mile in your name. Later, Philip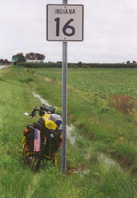 Because of the way I had to ride to get in to Indiana, I did not ever see a Welcome to Indiana sign for the formal picture, this was the first road sign I came to. I know it is a lousy picture. I'm getting TIRED.
Date: Tuesday, July 11, 2000 10:15 PM Day 43
Well, the best way to describe today would be "unnecessary". I could have stayed in my nice, cool, crisp bed at the Holiday Inn and simply paid someone to come in once an hour and beat me with large blunt objects. I wouldn't feel any worse and in between I could have slept. I rode 84.3 miles today, every bit of it against a 12 mph headwind. The scenery was banal, the weather gray. If I wasn't such a professional tourer I MIGHT think I was getting to the point in a tour that getting it done becomes more the goal than seeing what is round the next bend. From across the continent the end of the ride is too far off to matter so one just focuses on NOW. Today I realized that I'm probably only 700 miles away from Valley Forge where the rig is parked with what's her name and the cat. So, time for an attitude adjustment. We left out of Renesslear this AM about 7:00 Strong wind blowing FROM the east in my face, overcast sky. Riding in this is just put your face to the wind and pedal. Average speed all day was 9.4mph. Even this required constant effort. Anyway, after figuring out that there was nowhere to stop for lunch and buy food, the only logical solution was...A Picnic. We shopped in Buffalo for hot dogs and chili and stuff, drank much chocolate milk and started riding again. This time though we had a goal. Find a spot for a picnic. At about 1:00 we got to a private lake in a town of 23 persons. There was no one there and all the RV's were empty so we set up the stoves and cooked.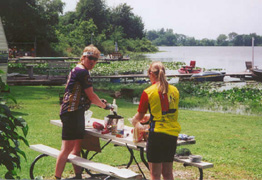 About four hundred dollars in technology to cook a package of hot dogs and some chili. Yum!
Ah here comes the resident black dog. A bit shy but quite interested in a hot dog. As a serious dog lover I found no problem in cooking the remaining wieners and feeding them to the pup. So, rotten day, great picnic-the pop machine had A&W Cream Soda! - neat dog and another 84.3 miles down. This puts me at 2,964.4 miles for the trip. Tomorrow I will cross the THREE THOUSAND MILE marker. Hot Damn. All for tonight from Peru, Indiana. I know Kurt, I told you we weren't coming here but what do I know? All for now, Off for Ohio I think tomorrow. Philip
Date: Wednesday, July 12, 2000 5:20 PM Day 44
Today, just outside the town of Huntington, Ind., I passed the THREE THOUSAND MILE mark. I started riding on May 26th and have taken two Full days off and 1/2 day-I think. Anyway it was a neat feeling. We were again fighting the wind and losing. Ten to 12 mph headwinds can take the fun right out of a ride. By the time we got to Huntington it was 1:30 and time for food. I went to a local bike shop, hoping to buy a bike jersey to wear but the owner said they couldn't sell them "back when bikes were hot". What a shame. Of course if there shop hadn't looked like a thrift store, if they EVER ran a vacuum, if they turned on all the lights so you didn't feel like you were trespassing just by entering, maybe they could attract a different clientele. Their loss. They did however send us to a great Cafe, YOUR WAY CAFE-Food With Attitude. I had a tenderloin sandwich. The waitress brought me a piece of meat about ten inches by four inches that was battered and fried, placed on home made buns with all the fixin's. Plus they exceeded my personal standards by giving me an ice tea spoon AND NOT putting half a lemon in my tea. Food was fab but now too full to ride. Hmmm, only done 42.4 today. What to do. Quick vote by the board of directors to proclaim it "I NEED A NAP" day and off to a nice Motel, soak in the hot tub and eat ice cream. Touring is Hell, isn't it? Will be sad to see Jim and Denise head off to Ft. Wayne and on to Maine tomorrow.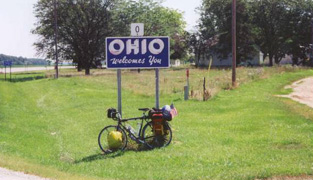 They will head North while I start my Eastward trek across Ohio. If you are looking at the map I will be on rte. 224 leaving Huntington, heading toward the PA border. I don't know exactly where to stop for the night yet. Got an Ohio map but haven't done my research yet. We are staying next door to a Bob Evans restaurant so dinner is looking good. I need to do laundry and repack the load a bit. For whoever asked, I carry three sets of riding clothes-shirt, shorts, sox-and one set of "off the bike" stuff. I have to do laundry every 3 days but can wash this stuff out each night and be pretty sure it will dry in a matter of hrs. Some kind of Miracle Fiber. About it for now. I may actually get back home by my birthday. I think I've already had my present, this ride, but cake is nice too. All for today, Philip.
Date: Thursday, July 13, 2000 7:16 PM Day 45
Hello to all. Today was one of those days when you think you can ride forever. After consecutive days of strong headwinds, I set out at 6:15 to no wind, 70 degrees and clear. After about an hour of riding I stopped in the town of Merkle, Ind. And went in for chocolate milk and, My Goodness, Are these Krispy Kreme Doughnuts? Not as good as Shipley's but better than anything else out here. So stretch the break and now back on the bike and Oh Boy we got a tailwind and the road turns into four lanes divided with an 8 foot concrete shoulder and Zoom it is two o'clock and I've ridden 60 miles and I'm not tired so I stop at a Mexican place for fuel. They had been open for 43 days and were quite proud of themselves. Filled my tea glass every ten seconds so I never got the sweetener right. But nice folks and good food. So, back on the bike and let's see what happens. Keep riding, four o'clock and no motel or camp ground here, five o'clock same, six o'clock I stopped at the L&W Restaurant, smack in the middle of nowhere and had a Root Beer float-special of the house, they make their own Root Beer-and a cheese burger. The waitress asked if I was on a bike. I said yes and she said, "go ahead and eat slow, the motel is 13 miles down the road and they won't be full. I can only assume that A, I look like the sort of idiot that rides a bicycle here in truck country, and B, I'm not the first person to try to ride this particular stretch of road only to find there isn't a motel from Van Wert, Ohio to Upper Sandusky. So off I go secure in the knowledge that I will neither starve nor sleep by the road this night. Into town, two miles down to a cheap Motel-LAST ROOM! And my goodness, I just rode ONE HUNDRED THIRTY and 2 tenths miles. It took twelve hrs of riding, but it took the same twelve to go 109 last time. Must be the tail wind. Anyway, a new personal best for me! The scenery was mostly forgettable today. Cornfields and bean fields and one Hell of a lot of trucks. At this rate I will be out the other side of Ohio tomorrow night or Sat. morning. Today was the first day I've ridden solo in some time as Jim and Denise have headed north to do the rest of that route. They were super to ride with, good road folks! I'm off to try the Dairy Treat next door. I love local ice cream places. 120 miles of Ohio to go and then Pennsylvania, then New Jersey and the Atlantic. Who would a thunk it? Philip
Date: Friday, July 14, 2000 7:11 PM Day 46
Hello to all from Canton, Ohio. I am in the middle of one of my favorite spots right now, watching a tremendous storm blow in. This will be the third one of the day and may be the best. Now the rains have started, so thick and dense that I van barely see across the street. I am ensconced in a palatial suite at the Top Of The Mark. Motel that is, $27.00 a night. Classic decor and a unique view of the drive thru Keggers to go next door. Oh well.. I started out on Upper Sandusky today, couldn't find anything for breakfast until about 15 miles down the road and then it was just Macdoodles. Anyway the rte. went from four lane divided with an eight foot shoulder down to 2 lane with about 8" of ridable surface. They are redoing this road so I had piled up shredded blacktop on the right and the road surface had been scored by some machine, rendering it like a washboard. I wonder if any body on this list still has a washboard? So what I had was 8" in-between of good surface and I just put my head down and ignored the traffic and pedaled like a man possessed. Soon enough it was back to normal and then back to four lanes with one lane blocked off for stripping so I had a private drive for twenty miles. I also had the first flat of the day. Followed twenty minutes after repair by the second flat of the day. Then I noticed the odometer wasn't working so stop again-did I mention that it was raining while all this is going on? - A van pulls over and asks if I need help. Said they had seen me in Upper Sandusky this AM. I said if the rain kept up I might need a ride as I was worried about the patch on the tube. They drove off to run an errand with a promise to check back. Finally got everything fixed and riding along in the rain and here they come. Now, do I hold true to the spirit of independence or do I load up and take the ride?? Of course I load up. I don't like riding in the rain on very busy highways. Turns out to be a professor from Bowling Green Univ. and his wife, super nice and interested in my stories. We decided if I was going to ride I might as well skip the downtown traffic. So here I am, on the Eastern side of Canton, 70 miles of riding and 20 minutes of driving. The land has changed again, too. I guess the influence of the river again. Smaller fields and everything is closer in, more trees too. I can still see those million mile landscapes of Montana and N. Dakota though. Those were magic places. I will ride into Pennsylvania tomorrow if I can get across the bridge. I don't know how strict they are about bicycles. I will contact one of the folks from the touring list in Pittsburgh for more rte. info and go on from there. After PA there is only New Jersey to go. I know it is just the ozone from the storm but it sure smells like ocean to me. Philip
Date: Saturday, July 15, 2000 5:03 PM Day 47
Hello to all from Beautiful Lisbon, Ohio. Yes I know I was gonna be in PA by now but talk about the best laid plans going astray! I set off from Canton, Ohio about 8:30 this morning. I only had 50-60 miles to do to be in PA so what's the hurry, right? 9 miles out of town I had the 3rd flat of the trip. Took me ten minutes to change, rode .2 mile and had the 4th flat of the trip, followed by the fifth flat when my last tube turned out to have a broken valve stem. Oh, forgot to tell you, I used up all my patches trying to fix the tubes too. So, let's see. Flat tire, no more spare, no more patches, raining and nearly ten miles from town. God I love being a touring professional. What to do? Why stick out the old thumb and look harmless. Every truck I see has one of those fancy tarps on the back so they aren't going to get dirty. Ah, here we go, old beat up Toyota with sideboards made out of 2x8's. Older fellow and young girl. Do I need help? Yes sir but I don't know where to start looking. It's about these special tubes you see. So off we go, Mr. Jim Gruber and granddaughter Miss Becky (age 9) and I, to every store in Minerva Ohio. Zippo. Nada. Back to the Gruber house, meet about a dozen more kids and take all the tubes out, use the compressor to inflate, each kid gets one tube and the bathtub.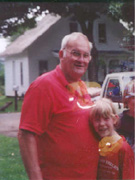 Find the hole, show the man with the funny shorts, recheck, yep another hole. End up with two good ones. Install one and inflate, pray. It holds! Celebration all around. Gotta take pictures. Miss Becky wants to take a picture of me. I think she mainly got my knees. Hugs all around, many thanks to Mr. Jim, USMC, ret. Special thanks to Miss Becky, she of the gazillion kilowatt smile and nearly that many questions. Of down the road, stop in at Macdoodles for fuel, stay for one hour while torrential downpour blows thru. Off again, ride for ten miles and here comes the rain again. Rats. Finally get to Lisbon. Four o'clock and forty miles and only 20 more to East Liverpool but not today. This town has two different diners so I will eat at one for supper and one for breakfast. Rotten day, wonderful people. Fair trade, huh? Philip
Mr. Jim and Miss Becky. Rotten picture, fabulous people.
Date: Sunday, July 16, 2000 7:55 PM Day 48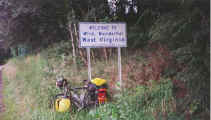 Hello to all and especially to Ron, one on my riding partners who is now back home. Good to know he made it back safe. He was the highlight of the Beulah, N. Dakota High School reunion. As well he should be. Today for me was a series of frustrating, cruddy moments, punctuated by a tickling of the fantastic. I set off from the worst motel of the trip with wet clothes as the owner forgot to provide the promised drier use before they locked up for the night. So I had to ride in street clothes, not my fave. Anyway, made it to East Liverpool and over the big bridge and Whoops, I'm in West Virginia?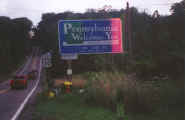 Well that is what you do here; cut a corner off the state. Anyway, worst roads of all to date. No shoulder, road surface broken, heavy traffic. I ended up walking for several miles. It was just easier than trying to negotiate the road. Into PA! Road is better.

Very hilly but at least ridable. Odometer stopped again so I really have no idea how far I went today. I will try to guess it from the maps. Found the town of Imperial and the promised Montour Bike Trail. Twelve miles of converted railroad bed. One of the nicest rides to date. So neat to see all the other riders after nearly two months of just the occasional tourer. I knew this was too good to be true, it started to rain about five miles before the end of the trail. NOWHERE TO GO! I felt like a five-year-old kid playing in the rain. Hell, I'm already wet, why go home? I just hammered down and kept pedallin', splashing thru the puddles with glee. Major fun but I do believe I may have terrorized a few of the more sedate locals. I was soaked! Got to the town of Coriopolis and called the lady from the touring group. Got directions. Got LOST. After an hour of looking for her, while of course she was out looking for me, it started to rain again and I gave up, got a motel room and sat down. No hot water and the AC doesn't work. New room. Better. Sent email. Margaret calls, we were on parallel streets. Will meet in AM, maybe take rest day, get new inner tubes and plan out rte. Very frustrating day, but I can think of so many worse. All for now as I fall asleep. Oh, I'm in Pittsburgh. Forgot to say. Philip
Date: Monday, July 17, 2000 1:53 PM Day 49
Hi guys. I am taking the day off here in Pittsburgh, visiting with one of the folks from my Internet touring group. I had to break down and buy new tires, the El Cheapo ones I got back in Minn. seem to be contributing to some of the flats. So far for the trip I have had seven flats-six in the past two days, replaced the original tires with cheap ones at three thousand miles and then again at four thousand. The mileage discrepancy is because these are the same tires I used on last years trip up the East Coast. I will either have the Speedo/computer repaired or replaced while the bike is at the shop too. Got to be able to know how far I have been each day. Anyway, all is well and I am basically just goofing off, touring the city and doing laundry. My hostess is moving from here to Tacoma to teach at the Univ. of Puget Sound. So her life is a bit topsy-turvy. She has been most kind to help with the rte and my bike situation shall head out tomorrow on a bike path out of the city, working my way South and East until I get into the area near Helen. I don't want to try to bike into or across Philly so she will deliver me over the River and into New Jersey for the final leg. I need to get to the grocery store now so that's it for the day. Later, Philip.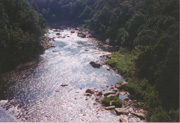 The view from the rail trail along the river. Very private and fun.
Date: Tuesday, July 18, 2000 7:22 PM Day 50
Today I rode in forest. The bike trail out of Pittsburgh runs all the way to Washington DC with nearly all sections complete. It is the first true Rail-to-Trail conversion that I have seen and I'm overwhelmed! I rode 73 miles today, all of it on hard, crushed gravel base about 7 feet wide with no one on it but other bikers. What a joy. I averaged 10.9mph, very nice, as there is a continual incline. Like riding in a tree tunnel. The overhead canopy is so dense that I did not even need sunglasses at all. Very few other rides except within 2-3 miles of each parking area or trail intersection. As usual I saw no more loaded touring people like myself. Probably won't as I will soon leave the bike path and strike out for trails end. The area here is so surprising. Heavily wooded with the various rivers for backdrop. I saw people rafting, horseback riding, hiking and biking and one rather spectacular young lady out in the middle of the river, on a huge rock, sun bathing in the altogether. I gather she is a regular there, based on the number of bike tracks that veer into the wood just before crossing into her view. Perhaps today will be her last appearance as a group of Boy Scouts was busily making a very silent camp immediately across the river from her. Should be interesting when she awakes and finds that size of an audience. The new tires and tubes bring such a sense of comfort. Instead of riding and constantly worrying if the next flat is starting to happen with each change in road surface, I just dug in and pedaled. I was riding with one fellow today who said he would have to drop back as my "pace" was too stiff for him! What a trip. I entered the YOUGH RIVER TRAIL at Boston, PA. just outside of Pittsburgh. The trail winds around to Connellsville and Ohiophile before stopping here in Confluence, PA. I have to do a short bit of road riding tomorrow and then I think I pick it up again. All this is outlined for me on the map from Margaret, my incredible hostess in PA. She didn't get to ride today as she is packing to move to Tacoma, WA. Pittsburgh is losing a real supporter in her. I'm camped tonight at the YOUGHIOGHENY RIVER LAKE Campground. Good showers and a Tasty Freeze across from the gate. Good enough. Tomorrow I will continue on East, I even dip into Maryland for a bit in the interest of skirting a mountain. Getting closer with each mile. It has been wonderful but I'm ready to get off the road pretty soon. All for now, Philip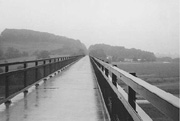 This is a rail to trail bridge, lovingly reshaped to accommodate bikers.
Date: Wednesday, July 19, 2000 7:34 PM Day 51
Today's numbers: 52.54 miles. Hello to all. Today was one of the least rewarding days of the trip. The Corps of Engineers Park was very loud and busy with folks coming in until late. Had to hook up my little radio and set it off station for background covering "white noise". Then of course it started to rain at 4:30 this morning. I did not notice as much water in the tent but still had too much to stay in it all day so I packed up at 8:00 and started riding. Had breakfast in town and then did six miles on the road before picking up the bike path again. Different story today. Much of the crushed gravel is gone now, leaving too many miles of rocks about half the size of golf balls and mud. Lots of mud. Cold, sticky, red mud. Yech. Anyway it has rained all day so on top of climbing a very serious 'hill' in the rain, the temp has stayed in the upper 50's and lower 60's which is cold when you are sweating very hard. There just wasn't anything neat about it today. Head down to avoid the spray from the heavy truck traffic once I ran out of bike path you don't notice much. Tiny towns with C-store lunch of Styrofoam Pizza and marginal milk. Then back on the bike. Why not just stop for the day? Because there isn't anywhere to stop. No motels, tent is still soaking wet but no parks anyway. At five thirty I crawled into Berlin, PA. only to find the closest motel is five miles away in the wrong direction. I would have surrendered right then but no one was taking prisoners. While standing at the store for some ice cream, the clerk said to try at the bar across the street. Now folks, I have slept in a few bars in my time but never intentionally. Turns out to be the New National Hotel, Bar and Rooms.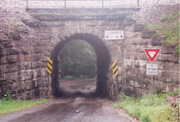 An old railroad hotel for workers. Room is clean, about 9X12, single bed and a dresser. Shower (very hot) down the hall. $15.00 cash. Once we got the toilet to stop over flowing it seems quite homey. In fact if it is still raining tomorrow I am staying right here. I have a brand new copy of People magazine from Feb '99 and an ice cream store across the street. Did my laundry and ate dinner already so I'm set. When I wheeled the bike into the room it was quite wet and drippy. The floor became increasingly black. Coal Dust! It permeates every thing in the town. This building is about 100 yrs. old and has been in continuous service. Anyway, I'm here, ready for sleep and the prospects of tomorrow. G'nite . PG Near New Berlin, PA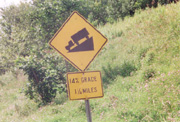 Getting to Breezewood on US 30.
Date: Thursday, July 20, 2000 6:55 PM Day 52
Hello to all from lovely Breezewood, PA. And it is lovely. I don't know the heritage but this area has that feel of 1950's"go to the mountains for the weekend". It is very much an East Coast sensation. it is 7:30 in the evening, cool and crisp and quite sunny. I'm staying at a real motel tonight, the Penn-Aire.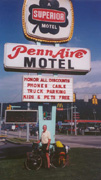 The room is lemon yellow and has the most incredible pair of bedside lamps I've ever seen. Bright orange. Bathroom has a huge tube with all appliances done in green and the hard tile wall is pink. Just needs some of those little fish chasing successively bigger fish to hang on the wall. When I arrived, after a good day and 52.66 miles, the owner spent half an hour talking. She buried her husband two weeks ago after a twenty-year illness and is also looking out for her fifty-year-old son who became a paraplegic four years ago. When she found out what I was doing she exclaimed "Good for you! at least you're having a life!" She said she wants to retire and play bridge all day but knows she never will. Her whole life has been taking care of someone. She is 74 yrs. old. The motel is of course immaculate and great fun but it must seem like a life sentence to her. My life today consisted of riding up and down mountains. I had to start the day in two shirts and tights due to the cool weather. At the top of one hill I saw the sign on the other side of the road to warn truckers about the 14% grade next 1 1/2 miles! Now that one took the wind out of me. But I did it. No rain and cool weather but I still stopped at about fifty as I have another mountain to climb next and I would rather do it in the AM. I will have to decide at the end of tomorrows' ride where to stop. I need to get to Philly and thence across to New Jersey before I could get there by riding the whole way. I have to go back to work, St Paul MN. by the 1st of Aug. So shall we vote on this? , Ride till Monday and have Helen pick me up wherever? Stop Sunday so I can get to Philly in time for a bite of birthday cake while assorted in-laws and outlaws are available? If I go in on Sunday I could finish the ride to the Atlantic on my B-day. If not I could finish on the 26th, two months after I started. Talk about high-class problems. You can express yourself but as a believer in anarchy I reserve the right to ignore everyone. Had to break down and wash the bike today too. So much mud from the rail-trail that I couldn't shift gears properly. Well, I've just been invited for ice cream with the owner and her son. He wants to show off his Canondale racing wheelchair. The guy is trying to get a job as a tester/instructor for the Wheelchair Sports part of Canondale. Talk about putting what you know to good use. That's it from the mountains of Pennsylvania. I wonder how you turn on the stove in here? Philip
Date: July 21st, 2000, La Penultima Day 53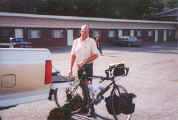 Hello to all. Amazing the way things can change overnight. I went to bed planning on a fifty mile ride over and around a mountain and woke up deciding not to. The route today would basically have been circuitous enough to last all day but only advance me about twenty-five miles Eastward. As I am at present at a major intersection of the Turnpike and PA highways, leaving here would just mean extra driving for Helen. So here I sit, drinking coffee at 8:00 in the morning, not faced with the prospect of riding for the first time in quite a while. I shall take off until Monday then ride across New Jersey to the Atlantic, dip the wheel in the Ocean and get my picture made, and call it a done thing. For today I shall soak in the tub until check out time, then sit out by the pool for the afternoon and wait for some lady in a pick up truck to offer me a ride. Of course by late this afternoon I will be so stiff from NOT RIDING that I will have trouble climbing up in to the truck. Such PROBLEMS! All for now. Philip, 3,508.98 miles and holding.
Date: July 24th, 2000 Day 54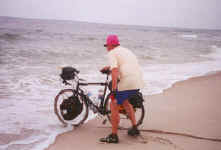 Done! I rode across New Jersey today, from just over the bridge from Philly to Mantoloking, an interesting ride of 69.7 miles for a grand total of 3,578.28. I am very tired right now and ready for a shower and some more sleep so I shall wait until tomorrow to actually write up the final installment. All I can do right now is quote from one of my favorite road songs, "What a long, strange trip it's been." All for now, details later. By the way, the transit time was May 26-July 24. Not bad for a guy turned 53 today. PG
Date: Tue, 25 Jul 2000 Day 55
Hello to all. I have been saying that for what seems like such a long time it is hard to realize that tomorrow it will be only two full months. But, I AM DONE WITH THE RIDE, I just don't know if the ride is done with me. I am trying to compile some technical information about what I carried, how the bike was set up, clothing etc. to add to this file. I really don't know what to do with it yet but I guess keeping it all in one place is a good start. I have found a lady-one that set up the New Jersey rte.-that is making a Trans con trip next year so I will let her borrow the maps.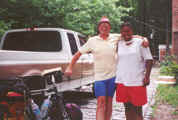 The author and Beth who set up the Jersey ride segment.
The rest of the gear goes back into storage for the next excursion. No, I have NO idea when or where.
As for the ride to Jersey. I was lost more times, confused more often and utterly bewildered more often in 69 miles across that one state than anywhere else in the whole ride. Because the area is so old and densely populated, a road may change names, as it changes political boundaries, five or six times in ten miles. It makes for some interesting riding. One road led down to a fantastic water mill. I found it but there was just no road leading away from it. I floundered around for nearly an hour, riding ten or fifteen minutes in all directions. Wasn't happening. Stumbled on the Princeton University Nursery. Unbelievable set up. Took four of us to figure out that the state had bought the mill, turned it into a State Park and CLOSED THE ROAD. Neat. So thus began detour number one of FOUR. I rode a total of ten extra miles to navigate the road closures. The path was such a terribly congested area it made me long for the open spaces of Montana and North Dakota. My memories of there are just vast expanses of air and wind. To places where man has made such a miniscule dent in the earth as to be nearly futile. I rode once out there for five hours without ever seeing or hearing anything except prairie dogs and the spin of my tires. Going from that to a continuous line of cars that NEVER slowed down is the true measure of this trip. I want to thanks everyone who wrote with kind words while I was riding, you will never know how much it meant to have that contact. Solo bicycle touring can often be the loneliest undertaking I've ever found.
For all of you who read and in some, any, way enjoyed or were affected by the ride, Thanks to you to for being with me. The combined energy of the nearly 70 folks that received these notes helped over many a hill. I hope you enjoyed the ride! To those that I had more direct contact with, Karo, Dorothy and Hall, Jaymes of Velocity Bikes, Ron the Machine who rides like the wind, Jim and Denise who made many days on the trail far better for their presence, Jurgen of WheelWright, Travis and Janie in Ohio, Jim Gruber and his irrepressible granddaughter Miss Becky, Margaret in Pittsburgh, and last but not least my girls in Texas (you know who you are) and "the Boss", Helen, for putting up with me while I got ready and supporting me in every way while I was on the road, THANKS A MILLION. LET'S DO IT AGAIN SOMETIME!!
Philip Gerding
Gentleman Adventurer
Valley Forge, PA, Summer, 2000
---