From Galveston to Corsicana with an additional day to ride to Mansfield if one wishes. This would add about 70 miles to the total of 404 miles in 8 days of biking. With ride to Mansfield would be about 470 miles.
By starting in Galveston we can have the following:
1. Easy and flat all the way to Winnie
2.Motel after the first day (actually this means a HOT BATH)
3. Nearly all the rides are fifty miles a day or less
4. All camping after the first day. Cheaper. Ken and Bill if you want to join us for the whole thing we could talk about getting rooms. With four or MORE riders it becomes possible to share rooms and still not cost too much.
5. Is within the riding ability of ANYONE who wants to ride.
6. Would never be so far out of place that we could not get a pick up if needed.
7. I will have the Camper off the truck back at home so if needed Helen could pick up anyone.
So, I think this is a do-able ride, good first ride for some of you, and should be a fun one. Contact me if you want to talk about what you need to have and what you can borrow. PG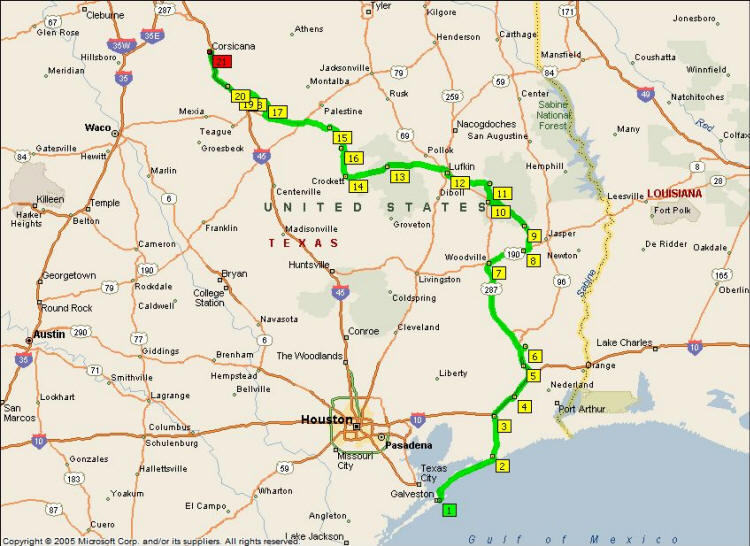 Summary: 404.0 miles (6 days, 19 hours, 6 minutes)
DAY 1
| | | | | |
| --- | --- | --- | --- | --- |
| | | | | |
| | | Depart 1519 17th St, Galveston, TX 77550 on 17th St (South) | | |
| | | Turn LEFT (North-East) onto FM-3005 [Seawall Blvd] | | |
| | | Bear LEFT (North) onto SR-87 [2nd St] | | |
| | | *Check timetable* Take Bolivar Free Ferry (North-West) | | |
| | | | | |
| | | Bear LEFT (North) onto SR-124 | | |
| | | At SR-124, stay on SR-124 (North) | | |
| | | Turn LEFT (West) onto FM-1406 | | |
| | | | | |
| | | | | |
| | | | | |
| --- | --- | --- | --- | --- |
| | | | | |
| | | Depart Winnie on FM-1406 (East) | | |
| | | Turn LEFT (North) onto SR-124 [Gulfway Dr] | | |
| | | Road name changes to FM-1663 [Gulfway Dr] | | |
| | | Bear RIGHT (North-East) onto I-10 E | | |
| | | Take Ramp (LEFT) onto I-10 | | |
| | | At exit 838, take Ramp (RIGHT) onto I-10 E | | |
| | | Turn RIGHT (East) onto FM-365 | | |
| | | Turn LEFT (North) onto SR-124 | | |
| | | At 15076 SR-124, Beaumont, TX 77705, stay on SR-124 (North-East) | | |
| | | Keep STRAIGHT onto SR-124 [Fannett Rd] | | |
| | | Turn LEFT (West) onto Smith Rd | | |
| | | Take Ramp (RIGHT) onto I-10 | | |
| | | Keep RIGHT onto US-287 [US-69] | | |
| | | Take Ramp (RIGHT) onto Eastex Fwy | | |
| | | | | |
| | | At Pine Crest, stay on SR-105 (East) | | |
| | | Turn LEFT (North-West) onto US-287 N [US-69 N] | | |
| | | Take Ramp (LEFT) onto US-287 [US-69] | | |
| | | | | |
| | | Turn RIGHT (East) onto Lindsey Rd | | |
| | | Turn LEFT (North) onto South Village Creek Pky | | |
| | | Turn RIGHT (East) onto Holmes Rd | | |
| | | Turn LEFT (North) onto Tram Rd | | |
| | | Turn RIGHT (East) onto Alma Dr | | |
| | | Turn LEFT (North) onto Local road(s) | | |
| | | Arrive Village Creek State Park [Lumberton, TX 77657, Tel: (409) 755-7322] | | |
| | | ** Arrival earlier than specified 5:00 PM arrival time ** | | |
| | | | | |
| | | | | |
| --- | --- | --- | --- | --- |
| | | | | |
| | | Depart Village Creek State Park [Lumberton, TX 77657, Tel: (409) 755-7322] on Local road(s) (South) | | |
| | | Turn RIGHT (West) onto Alma Dr | | |
| | | Turn LEFT (South) onto Tram Rd | | |
| | | Turn RIGHT (West) onto Holmes Rd | | |
| | | Turn RIGHT (North) onto South Village Creek Pky | | |
| | | Turn LEFT (West) onto Local road(s) | | |
| | | Turn RIGHT (North) onto US-96 [S Main St] | | |
| | | Turn LEFT (West) onto FM-421 [Country Lane Dr] | | |
| | | Turn RIGHT (North) onto US-287 [US-69] | | |
| | | Turn RIGHT (East) onto US-190 [E Bluff St] | | |
| | | At Woodville, stay on US-190 [E Bluff St] (East) | | |
| | | Turn RIGHT (South) onto SR-P48 [Private Road 5025] | | |
| | | Turn RIGHT (West) onto Local road(s) | | |
| | | Arrive Martin Dies Jr. State Park [RR 4, Jasper, TX 75951, Tel: (409) 384-5231] | | |
| | | ** Arrival earlier than specified 5:00 PM arrival time ** | | |
| | | | | |
| | | | | |
| --- | --- | --- | --- | --- |
| | | | | |
| | | Depart Martin Dies Jr. State Park [RR 4, Jasper, TX 75951, Tel: (409) 384-5231] on Local road(s) (East) | | |
| | | Turn LEFT (North) onto SR-P48 [Private Road 5025] | | |
| | | Turn RIGHT (East) onto US-190 | | |
| | | Turn LEFT (North) onto FM-1747 S | | |
| | | Turn RIGHT (East) onto FM-2799 | | |
| | | Turn LEFT (North) onto FM-1747 N | | |
| | | Turn LEFT (North-West) onto SR-63 | | |
| | | At SR-63, stay on SR-63 (North-West) | | |
| | | At Zavalla, return East on SR-63 [E Main St] | | |
| | | | | |
| | | Turn LEFT (North) onto FM-2109 | | |
| | | Turn RIGHT (East) onto FM-2801 | | |
| | | Turn RIGHT (South-East) onto Local road(s) | | |
| | | Turn LEFT (North) onto Local road(s) | | |
| | | Arrive Hank's Creek Park (COE-Sam Rayburn Reservoir) [Rt 3, Jasper, TX 75949, Tel: (409) 384-5716] | | |
| | | ** Arrival earlier than specified 5:00 PM arrival time ** | | |
| | | | | |
| | | | | |
| --- | --- | --- | --- | --- |
| | | | | |
| | | Depart Hank's Creek Park (COE-Sam Rayburn Reservoir) [Rt 3, Jasper, TX 75949, Tel: (409) 384-5716] on Local road(s) (South-West) | | |
| | | Turn RIGHT (North-West) onto Local road(s) | | |
| | | Turn LEFT (South-West) onto FM-2801 | | |
| | | Turn RIGHT (North) onto FM-2109 | | |
| | | Keep STRAIGHT onto FM-2109 [E Pine St] | | |
| | | Turn LEFT (South) onto FM-1669 [4th St] | | |
| | | Turn RIGHT (West) onto US-69 | | |
| | | Road name changes to US-69 Bus [E Denman Ave] | | |
| | | Bear RIGHT (North) onto US-69 Bus [S Chestnut St] | | |
| | | Turn RIGHT (North-East) onto US-59 Bus [US-69 Bus] | | |
| | | At Lufkin, stay on US-59 Bus [US-69 Bus] (North) | | |
| | | Turn LEFT (West) onto US-69 Bus [SR-103] | | |
| | | Turn LEFT (West) onto Ellen Trout Dr | | |
| | | Road name changes to Local road(s) | | |
| | | Turn LEFT (South) onto US-69 [SR-103] | | |
| | | Road name changes to SR-103 [SR-287 Loop] | | |
| | | Keep RIGHT onto Local road(s) | | |
| | | Bear RIGHT (West) onto SR-103 | | |
| | | Keep STRAIGHT onto FM-706 [SR-103] | | |
| | | Keep STRAIGHT onto SR-103 | | |
| | | | | |
| | | Turn RIGHT (North) onto Ratcliff Lake Rd | | |
| | | Turn RIGHT (North-East) onto Local road(s) | | |
| | | Arrive Davy Crockett National Forest (Ratcliff Lake Rec. Area) [Rt 1, Kennard, TX 75847, Tel: (936) 655-2299] | | |
| | | ** Arrival earlier than specified 5:00 PM arrival time ** | | |
| | | | | |
| | | | | |
| --- | --- | --- | --- | --- |
| | | | | |
| | | Depart Davy Crockett National Forest (Ratcliff Lake Rec. Area) [Rt 1, Kennard, TX 75847, Tel: (936) 655-2299] on Local road(s) (South-West) | | |
| | | Turn LEFT (South-East) onto Ratcliff Lake Rd, then immediately turn RIGHT (South-West) onto SR-7 | | |
| | | Turn RIGHT (North) onto US-287 [5th St] | | |
| | | | | |
| | | Bear LEFT (South) onto US-287 [SR-19] | | |
| | | At Crockett, take SR-21 (LEFT) onto US-287 [SR-21] | | |
| | | Turn RIGHT (North) onto US-287 [SR-19] | | |
| | | Turn LEFT (West) onto SR-294 [E Parker St] | | |
| | | At Elkhart, return North on SR-294 [E Parker St] | | |
| | | Turn RIGHT (South) onto US-287 [SR-19] | | |
| | | Turn RIGHT (West) onto CR-2345 | | |
| | | Road name changes to N Main St | | |
| | | Turn RIGHT (West) onto 2nd St | | |
| | | Turn LEFT (South) onto FM-1272 [N Olive St], then immediately turn RIGHT (West) onto Redbud St | | |
| | | Bear RIGHT (West) onto Salmon Lake Rd | | |
| | | Turn LEFT (South) onto Local road(s) | | |
| | | Arrive Salmon Lake Park [Grapeland, TX 75844, Tel: (936) 687-2594] | | |
| | | ** Arrival earlier than specified 5:00 PM arrival time ** | | |
| | | | | |
| | | | | |
| --- | --- | --- | --- | --- |
| | | | | |
| | | Depart Salmon Lake Park [Grapeland, TX 75844, Tel: (936) 687-2594] on Local road(s) (North) | | |
| | | Turn RIGHT (East) onto Salmon Lake Rd | | |
| | | Bear LEFT (East) onto Redbud St | | |
| | | Turn LEFT (North) onto FM-1272 [N Olive St], then immediately turn RIGHT (East) onto 2nd St | | |
| | | Turn LEFT (North) onto N Main St | | |
| | | Road name changes to CR-2345 | | |
| | | Turn LEFT to stay on CR-2345 | | |
| | | Turn LEFT (North) onto US-287 [SR-19] | | |
| | | Turn LEFT (West) onto SR-294 [E Parker St] | | |
| | | Keep STRAIGHT onto SR-294 [W Parker St] | | |
| | | Keep STRAIGHT onto SR-294 | | |
| | | Turn LEFT (West) onto US-79 [US-84] | | |
| | | | | |
| | | Turn RIGHT (North) onto FM-1364 | | |
| | | Turn RIGHT to stay on FM-1364 | | |
| | | Turn LEFT to stay on FM-1364 | | |
| | | Road name changes to CR-240 | | |
| | | Turn LEFT (North-West) onto CR-235 | | |
| | | Bear LEFT (West) onto Local road(s) | | |
| | | Turn RIGHT (North-West) onto Local road(s) | | |
| | | Arrive Fairfield Lake State Park [123 State Park Rd 64, Fairfield, TX 75840, Tel: (903) 389-4514] | | |
| | | ** Arrival earlier than specified 5:00 PM arrival time ** | | |
| | | | | |
| | | | | |
| --- | --- | --- | --- | --- |
| | | | | |
| | | Depart Fairfield Lake State Park [123 State Park Rd 64, Fairfield, TX 75840, Tel: (903) 389-4514] on Local road(s) (South) | | |
| | | Road name changes to FM-3285 | | |
| | | Turn RIGHT (North) onto FM-2570 [RR-1124] | | |
| | | Keep STRAIGHT onto FM-2570 | | |
| | | Turn LEFT (West) onto FM-833 | | |
| | | At Stewards Mill, stay on FM-833 (South-West) | | |
| | | Bear RIGHT (North-West) onto SR-75 | | |
| | | At SR-75, stay on SR-75 (North-West) | | |
| | | Keep STRAIGHT onto SR-114 Spur | | |
| | | Turn RIGHT (North) onto FM-80 | | |
| | | Keep STRAIGHT onto FM-80 [S Houston Ave] | | |
| | | Turn RIGHT (East) onto SR-262 Loop [E Main St] | | |
| | | At Streetman, return West on SR-262 Loop [E Main St] | | |
| | | Bear RIGHT (North-West) onto SR-262 Loop, then immediately turn LEFT (West) onto SR-75 [W Hubbard St] | | |
| | | Bear LEFT (West) onto SR-75 | | |
| | | Turn LEFT (South-West) onto FM-246 | | |
| | | Take Ramp (RIGHT) onto I-45 | | |
| | | At exit 228B, take Ramp (LEFT) onto I-45 Bus [S Business US-45] | | |
| | | Bear RIGHT (North) onto I-45 Bus [S 7th St] | | |
| | | Turn LEFT (West) onto SR-31 [E 7th Ave] | | |
| | | | | |

SUMMARY
Driving distance: 404.0 miles
Trip duration: 6 days, 19 hours, 6 minutes
Driving time: 12 hours, 30 minutes
Cost: $34.42